Las Vegas Violent Crime Defense Attorneys
If you have been accused of a violent crime in Nevada, time is not on your side. You need to reach out to an experienced criminal defense attorney in Las Vegas right away.
When you need the best defense, call Zentz & Zentz!
After an arrest, things can happen very quickly, and you will feel like you have very little control over the situation, with way more questions than answers. Whatever you do, don't talk to the police without your lawyer present, other than to request to contact your attorney. Other than providing your name, you are under no obligation at any time to volunteer information to a police officer, no matter what lies they tell you, or whether you are innocent or guilty of any crime.
Las Vegas Criminal Lawyer is your Las Vegas criminal defense law firm. We represent clients in tough positions, facing serious legal battles and looking for guidance, support, and aggressive, diligent defense. From protecting and guiding you during interrogation to avidly defending you in the courtroom, we are at your side during this challenging time, working to prove your innocence or reduce your criminal charges.
The dedicated Las Vegas defense law firm of Las Vegas Criminal Lawyer is committed to fighting to regain your freedom, delivering high-quality, experienced legal support every step of the way.
Call Las Vegas Criminal Lawyer at (702) 602-9110 for a Free Consultation!
Potential Consequences of Violent Crimes
There are many different violent crimes you may be charged with in Nevada, carrying hefty punishments for offenders, up to life in prison. Less severe crimes may be sentenced to probation, fines, or shorter jail times. Your sentence is determined through negotiation between your attorney and the prosecutors at the district attorneys office, or by your judge during a jury trial for felony charges.
Even after you have served your time, your conviction can haunt you for the rest of your life, making it more challenging for you to find gainful employment, and impacting your right to vote, carry a weapon, and even your right to custody of your child. Your relationships will often become strained during the criminal justice process, especially if you are forced to serve time behind bars. A conviction for a violent crime is not a mere inconvenience, it changes every aspect of your life.
Common violent crime charges in Las Vegas include:
Robbery
Assault & Battery
Arson
Kidnapping
Manslaughter
Murder/Homicide
Coercion
If you are facing criminal charges, reach out to us. At Las Vegas Criminal Lawyer, our Las Vegas criminal lawyers are dedicated to moving the process along as swiftly as possible with effective negotiation and solid, evidence-based arguments, so you can return to your normal life as quickly as possible.
Domestic Violence Charges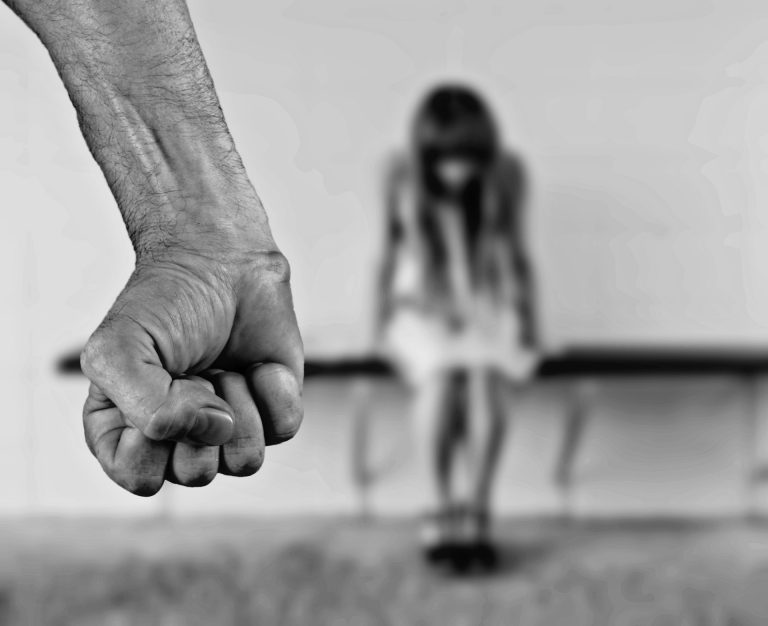 Domestic Violence occurs when a person uses force or violence upon someone they are; related to, in or has been in a romantic relationship with, has a child with, or their roommate. To be accused of this a person doesn't need to just punch, kick or push a person. Grabbing a person, or what a person is holding, throwing things at a person and other physical forms of violence can be considered Battery in Las Vegas. If a person strangles another, causes substantial bodily harm or injury, or uses a deadly weapon against them then the offense is considered a Felony in Las Vegas, Nevada.
A person does not need to be present at the scene when police arrive to be charged with Domestic Violence. So long as someone claims that the person committed this act the police and prosecution will bring charges against the defendant.
Penalties for Domestic Violence
A first and second offense Domestic Violence are considered misdemeanors in Las Vegas, Nevada.
A First Offense Domestic Violence will carry punishments of:
Fines up to $1000
Community Service of at least 48 hours
Domestic Violence Counseling of 1 class per week for 6 months.
A Second Offense Domestic Violence will carry punishments of:
Fines up to $1000
Community Service of at least 96 hours
Domestic Violence Counseling of 1 class per week for 1 year.
A Third-time Domestic Violence is considered a Felony, as well as any Domestic Violence using strangulation or causing substantial bodily harm or injury in Las Vegas, Nevada.
A Third Offense Domestic Violence will carry punishments of:
Prison Time of 1-5 years
Fines up to $10,000
A Domestic Violence where strangulation or causing substantial bodily harm or injury will carry punishments of:
Prison Time up to 15 years
Fines up to $15,000
Defenses
There are a few defenses to this offense that a skilled and experienced lawyer can use on your behalf. These include:
Self Defense
Mutual Combat
False Allegations
If you have been charged with any violent crime, time is of the essence! Contact the law offices of Las Vegas Criminal Lawyer immediately for an aggressive defense and dedicated support throughout the process.
The Criminal Defense Process
Once you have been arrested in Las Vegas for a violent crime, you will begin the criminal justice process. There will be set series of events that will take place, and understanding the process can help to alleviate the concerns you may have about what will happen. Our criminal defense firm can help you understand the process, and how you can best protect yourself at each stage.
Depending on the offense and severity, you may be released with a citation and further order to appear in court, or you may be taken into police custody at the Clark County Detention Center or the Las Vegas City Jail, for booking and processing. This includes removing and inventorying your belongings, fingerprinting, and mugshot. You may spend several nights in jail, depending on whether or not you have the ability to pay your bond, when bond can be set, and when your arraignment is scheduled for. You may not be approved for bond if you are charged with a violent crime.
The Arraignment: This is your first appearance in court. You will be read your charges, provided the Charging Document, and asked to enter your plea, either not guilty or guilty. In most situations, you will enter a plea of Not Guilty.
Negotiation: We negotiate directly with the prosecutor or district attorneys, depending on your jurisdiction and type of case, to attempt to drop or reduce your charges. We will discuss any plea bargain offers with you, and advise you on your best course of action. This can often help to avoid a substantial sentence or a lengthy jury trial.
Preliminary Hearing: If no negotiation is reached, you will return to the courtroom for a preliminary hearing. The prosecution and defense each present their case. The judge will hear both sides, and determine if there is enough probable cause to move forward with a jury trial. This is your opportunity to present evidence supporting your innocence and prove reasonable doubt, resulting in having your charge dismissed.
Felony Jury Trial: If your case moves forward, you will then move to a felony jury trial in front of a jury of your peers. The complete trial process can last days, months, or even years depending on the schedule of the courts and the preparedness of the prosecution. While we will work to expedite your trial, we take advantage of the time afforded us to diligently and methodically compile the evidence, expert testimony, and key witness statements needed to support a favorable outcome for your case.
Enlisting the support of a qualified, experienced attorney in Las Vegas early in the process can greatly impact your ability to obtain a favorable resolution. The dedicated criminal defense trial lawyers at Las Vegas Criminal Lawyer provide expert legal support during the entire process, from guiding you during police interrogations, to assisting with bail procedures, criminal arraignments, plea bargains, and trial defense.
Whether you have been arrested for a Nevada DUI crime, drug trafficking, drug paraphernalia, or other drug charges, white collar crimes, domestic battery, assault and battery, sex crimes or sexual assault, theft crimes, child abuse or other felony offenses, our aggressive Las Vegas, NV criminal attorneys are ready to fight for your rights.
Let's Talk Now- Free Consultation
Don't trust the half price lawyers you see on billboards! You deserve a real law firm, working hard for you.
As your dedicated Nevada criminal defense attorneys, Las Vegas Criminal Lawyer handles every aspect of your violent crime defense in Las Vegas and surrounding areas. When charged with a violent crime, it is vital that you get a competent, experienced, and professional legal support team on your side as quickly as possible. We guide you through the early stages of the process, and provide support, advice, and aggressive negotiation and courtroom skills as your criminal case advances.
Las Vegas Criminal Lawyer gets you the justice you deserve! Stop the nonsense, call the Las Vegas violent crime defense attorneys at Zentz & Zentz!
Call Las Vegas Criminal Lawyer today at (702) 602-9110 for your Free Consultation with a Las Vegas Criminal Defense Lawyer!